Summer is when I tackle the TBR (to be read) pile of books and magazines I've accumulated during the school year. My teaching schedule is lighter in the summer and like a lot of writers, I use the summer to catch up on my reading. And go to writing cons!
One book in particular has captivated my attention early, and even though I've read it twice already (it's a small book,) I just keep coming back to it. The newest book from creative non-fiction writing professor Dinty W. Moore, THE MINDFUL WRITER, NOBLE TRUTHS OF THE WRITING LIFE, is a pocket-sized treasure full of good stuff I've found insightful, thought provoking, and entertaining. This is not a book review, by the way. It's just a blog about what's on my mind. And since books in many forms are usually always on my mind (a common writer's affliction,) I'm tying Moore's book in with today's topic of meditation.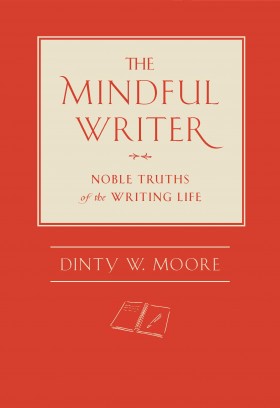 THE MINDFUL WRITER is a clever weaving together of the Buddha's Four Noble Truths with the writing life. Moore's inventive perspective has created "The Four Noble Truths For Writers." But first the Buddha's list:
1.Life is dukkha (suffering, dissatisfaction.)
2.The cause of dukkha is our desire.
3.It is possible, however, to end this desire.
4.The way to end it is through the Eightfold Path: right views, right aim, right speech, right action, right living, right effort, right mindfulness, right concentration.
Moore's list (abbreviated because I highly recommend this book be read by all writers at any level):
1.The writing life is difficult,…
2.Much of this dissatisfaction comes from…
3.There is a way to lessen the disappointment…
4.The way to accomplish this is to make both the practice of writing and the work…
At first glance, many writers might pass over this small epistle in favor of something else more "relevant." What is more relevant to a writer, or to anyone for that matter, than a manageable size helping of gentle guidance and goodwill written by a writer who knows what we all know. It's a journey. Wear comfortable shoes and pause every once in a while to savor the moment.
Meanwhile, remember to look for a digital or print copy of Writer Wellness, A Writer's Path to Health and Creativity at Cool Gus Publishing, http://www.coolguspublishing.com.
Have you subscribed to this Writer Wellness blog yet? Get email updates when a new post is added. Click "subscribe" and leave your email. That's it and thanks in advance!
Be well, write well.
https://www.mybookcoachrocks.com
Copyright Joy Held 2012. All rights reserved.